Serves 3 - 4. Free Delivery. Pre-Order Only
1kg slow-cooked rib eye roast, red wine shallot gravy, homemade mala butter.
Include tasty sides
- Jewelled olive rice
- Herb-roasted mushrooms
- Charred broccoli with beef fat dressing
And a breakfast taco set that'll turn your dinner leftovers into a hearty breakfast treat!
Breakfast Taco Kit
- 8 flour tortillas
- Purple cabbage
- Coriander
- Lime
- Umami mayo
- Sriracha mayo
Limited quantities available each weekend.
Read More
Out Of Stock ADD
Slake Family Set Menu (1st-15th June)
Minimum of 2 pax

- Pad Kra Pao Omelette

- Lemak Chilli Padi Kuhlbarra Barramundi

- Cucumber & Corn Cold Salad

- Brown Butter & Bourbon Chunky Cookies
*Comes with complimentary Dashi Rice (Upgrade to "Shiok" Rice at $4+/portion)

Photos are for illustration purposes only. Image is a set to feed 2 pax.
Read More
Out Of Stock ADD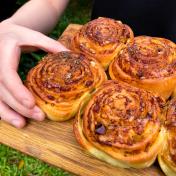 (While Stocks Last!)
Garlic and smoked bacon rolls, with parmesan and house-made maple mala butter.
Out Of Stock ADD